Since my senior year in college, blackjack and mathematics have been a focal point of my life in one form or another.
If you've read the bestselling book, Bringing Down The House, you may know me as "Jason Fisher", one of the leaders of the MIT Blackjack Team. We were a group of MIT students that used mathematics to legally beat the house at blackjack for millions. You may have also seen our team's story depicted on the big screen in the major motion picture, 21.
Intellectual curiosity and the promise of the high roller life style were what initially drew me to card counting. However blackjack quickly grew into something much more than a lucrative hobby with fantastic perks. Blackjack became my passion and profession. I learned how mathematics can be applied in unique and powerful  ways.  Beyond card counting I learned how to run a business and how to manage a team. I also learned a great deal about human nature, including why people often make irrational decisions.  Utilizing an analytically  based strategy can take the gamble out of  many things in life, beyond blackjack.
I was fortunate to enjoy an exciting and profitable blackjack career. I had the opportunity to live the life of a high roller, but as much I enjoyed the penthouse suites and limousines, these luxuries didn't compare to winning big at the blackjack tables. I took great pride in mastering a unique set of skills and doing what only a select few have accomplished.  After our team's incredible run, I had become one of the most infamous blackjack players in the casino world.  Although card counting is perfectly legal,  casinos reserve the right to take countermeasures against those who are identified as "advantage players."  Information sharing among casinos and the Griffin Investigations detective agency placed me at the top of the casinos' black list of professional card counters.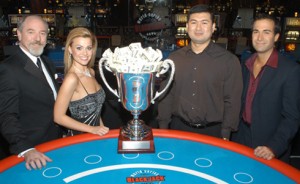 Several years after I retired, I was able to hit the blackjack tables again in several televised blackjack tournaments, including the World Series of Blackjack and the Ultimate Blackjack Tour. Although tournament blackjack is quite different from live blackjack, I had a blast competing against the best players in the world.  I was fortunate to win the first ever World Series of Blackjack Championship.
When my playing days ended, I got involved in the non-profit sector as a volunteer, tutoring and mentoring high school students in math and SAT preparation. I quickly discovered that I love teaching as much as I do blackjack. I started an after school program with the mission of helping young people achieve higher education. Combining two of my passions, I now offer my card counting knowledge and blackjack expertise through a number of instructional offerings that teach players how to turn 21  into a winning investment.
In addition to providing consulting on professional blackjack and the mathematics of gaming, I also serve as the Chief Research Officer for Peerless Analytics.    So  today, even though I am no longer allowed to play blackjack, I feel very fortunate to have the opportunity to apply and share what I've learned through my consulting, speaking events and Peerless Analytics.