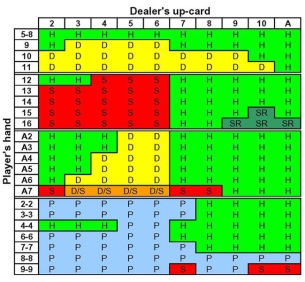 At blackjack tables around the world, it's an all too common scene. Players contemplating, arguing, agonizing, and eventually guessing how to play their hands. Player 12 vs Dealer 3 is just one situation that has many players wanting to pull their hair out. The good news is all of this frustration and soul searching is completely unnecessary. For every blackjack player that has called upon the gambling gods for guidance, basic strategy is the answer to their prayers.
Basic strategy is the best way to play your hand versus the dealer's up-card. For each and every possible hand, there is one and only one correct play. Regardless of whether you're a professional card counter or a recreational gambler, basic strategy is your best friend. The first requirement for every new recruit on the MIT Blackjack Team was learning basic strategy. It's comforting to know that brilliant mathematicians derived this optimal playing strategy. There's no need for any guess work or analysis on your part. All the work has already been done for you.
What does basic strategy do for you in terms of dollars? The house edge over any given player can vary because blackjack is a a game of skill. The average blackjack player is at about a 2.0 % disadvantage to the house. Assuming a rate of 60 hands dealt per hour, it costs the average $25 bettor about $30 an hour to play.
Expected hourly loss = Avg Bet x Hands/Hour x House Edge
Expected hourly loss = $25 x 60 hands/hr x 2.0 % = $30
If you learn basic strategy and play it consistently, the house advantage drops to about .5 %. Look what happens to the expected hourly loss.
Expected hourly loss = $25 x 60 hands/hr x .5 % = $7.50
For a $25 bettor, basic strategy results in a savings of $22.50, and that's just for one hour of play. If you bet more than $25 a hand, you're savings will be proportionally larger. Basic strategy reduces a player's expected loss by 75% which means the average blackjack player pays 4 times as much to play as a basic strategy player. That's equivalent to paying $8.00 a gallon for gas when you could easily pay only $2.00 a gallon. If you're not playing basic strategy, you're paying a very steep price.
There's no reason or excuse for not playing basic strategy. Not only can you dramatically improve your odds to nearly break even, the next time you have a 12 and dealer is showing a 3, you will know with 100% certainty that the correct play is to hit. No more angst or hesitation over what to do.